How medical students currently learn
The importance of interactive learning concepts for students at the time of the COVID 19 pandemic, such as those made possible by the digital microscopy platform "SmartZoom", became apparent at the 1st user meeting at the end of May. At the invitation of the Cologne-based software specialist Smart In Media, users of the e-learning platform met online for the first time.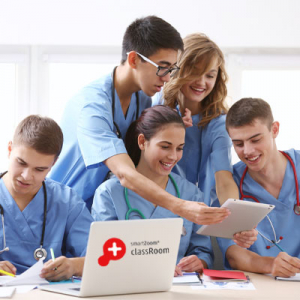 Before the exchange of experts began, Dr. Bastian Malzkorn, a neuropathologist and medical didact, presented the current study concept for "Interdisciplinary Blended Learning with Digital Microscopy at the Time of the COVID 19 Pandemic" of the Heinrich Heine University Düsseldorf. The medical didact emphasized the current need for medical students to have an online platform with which they can use complete slide boxes with their smartphone, tablet, or laptop independent of time and place. For Dr. Malzkorn, this is the only way to compensate for the loss of face-to-face meetings and, at the same time, ensure results and feedback.
Clearly superior to classical microscopy
But not only that: The neuropathologist also reported from his own experience with "SmartZoom" that the e-learning platform is also clearly superior to classical microscopy. Difficulties in finding important regions again under the teaching microscope, incorrect sections, faded stains, and many other hurdles on the way to learning success were finally a thing of the past.
That was confirmed by other users from universities all over Germany. After exchanging their own experiences with the software, they were interested to hear from the Smart In Media team about the updates that will be made to "SmartZoom" in the next weeks: above all, innovations that will further simplify collaborative learning for medical students and teachers and enable greater interaction — and thus better learning results.
Anyone who would like to attend the interactive user meetings in the future can register at any time by sending an e-mail to Corina Turner, e-mail c.turner@smartinmedia.com, Tel. 0221 999943-14.
SIGN UP FOR OUR NEWSLETTER
I consent to receive further information from Smart In Media in accordance with the Privacy Policy. I can revoke this consent at any time without incurring any additional costs other than Internet connection costs.