PathoZoom® Scan
PathoZoom® Scan & SlideCloud is a powerful package, which lets you can and share a microscopic slide within 1 minute. Your colleagues can view the slide immediately. PathoZoom® Scan is integrated into the PathoZoom SlideCloud. All you need is your microscope and the PathoZoom Scan® package. You can equip your external sites with it to connect them to the main laboratory. In contrast to automated scanners, PathoZoom® Scan does not have any moving parts, which makes it robust and very reliable.
Watch this brief demo video!
Plug & Play
Unbox and start!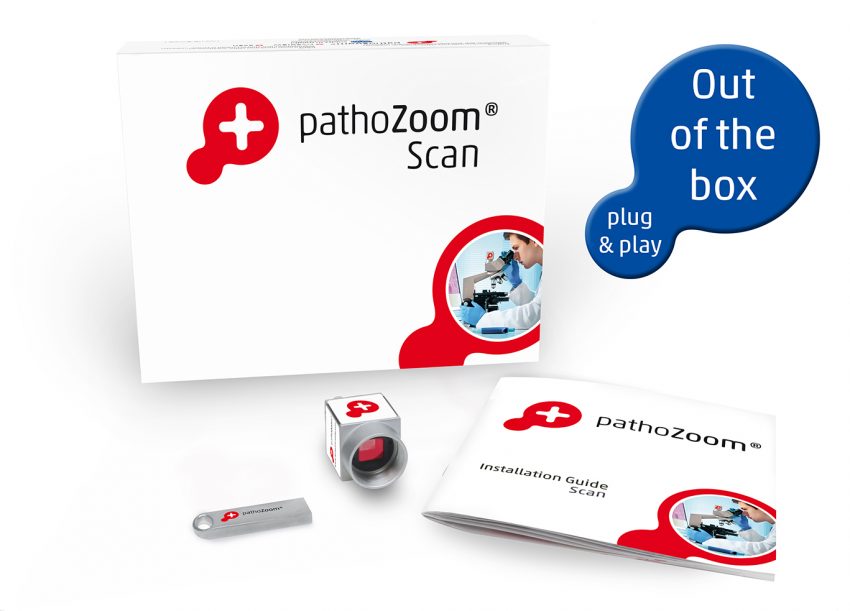 PathoZoom® Scan is easy to install. No IT-knowledge needed, installation is done in a few minutes!

Examples
Top quality- See for yourself!
The following specimens were scanned with PathoZoom® Scan. The quality of the scans depends on your microscope. With an excellent microscope you can exceed the quality of expensive automated scanners!

Example 1: Core biopsy of an ovarian cancer
This example shows a core biopsy scanned at 10x magnification. With PathoZoom Scan it is possible to combine two digital scans (in this case HE and immunohistochemistry) in one file just by "freezing" the first image and scanning the second image in the same session. The scanning took about 60 seconds (2×30 seconds).

Example2: Molluscum contagiosum
This example shows a skin biopsy of a molluscum contagiosum scanned at 10x magnification. The scanning took about 30 seconds.

Example 3: Malaria tropica, hematology
With PathoZoom® Scan, you can also scan with oil. In this example, the peripheral blood smear of a patient with Malaria was scanned in oil at 40x (mimicking a 63-80x for the human eye). Because of an excellent microscope, the quality exceeds the quality of a U$100k scanner for hematologic cytomorphology. The scanning took about 60 seconds.

Example 4: Exfoliative cytology of the cervix PAP I
This example shows the cervical cytology scanned at 40x magnification. In this resolution, all relevant nuclear changes are visible. The scanning took about 90 seconds.

Usage
Manual slide-scanning is a good solution for many situations. However, there are several situations where manual slide-scanning is not feasible. Our company will assists you in finding out whether or not manual slide-scanning is a good choice for you.
A few reasons for both solutions are listed below. Most of them are related to the time it takes to scan a slide manually. While scanning biopsies at 20x take only 2-3 minutes, scanning a large sample (>20x20mm²) at 40x can easily take an hour.
Regarding the financial situation in various countries, there are significant variations of the feasibility threshold between manual and motorized scanning solutions.
Good reasons to consider manual slide-scanning:
External sites of your pathology lab: Get brief consultations from your main laboratory.
Your samples should be scanned at low magnifications (2x, 4x, 10x)
Your samples need to be scanned at 20x or 40x magnification, but they are small or it is ok to scan a subregion (up to 10x10mm²)
Your samples have a clear outline and all parts of the tissue on the slide are connected
You need to scan slides occasionally
Good reasons to consider motorized slide-scanning:
You need to scan many slides regularly
The barcode labels of your slides should be read automatically
The samples on your slides are large (> 20x20mm²) and need to be scanned at 40x magnifications
Most of your samples consist of multiple parts that are not connected to each other