Corona Crisis

: Work efficiently from home with PathoZoom Digital Lab / HomeOffice

Diagnosing remotely from your home office has never been more necessary and yet easier than today. While working in the laboratory is essential to pathology, the time spent in it can be reduced and used more efficiently.

PathoZoom Digital Lab / HomeOffice offers you a complete toolset to diagnose cases digitally in your laboratory, allowing for more flexibility and efficiency in day-to-day operations.  With our application you can digitize all your slides via slide scanner – or manually scan them using our PathoZoom Scan & LiveView technology – and store them on your secure PathoZoom Digital Lab Server. From there you can access them at anytime from anywhere in the world using any device with access to the internet.

Digital Pathology allows you to focus on the important parts of your work and reduce time spent on redundant tasks. PathoZoom Digital Lab seamlessly integrates with your Laboratory Information and Management System (LIMS), so you can open cases simultaneously in Digital Lab and your LIMS. Sharing a case with a colleague can be done with a simple click and does not require an elaborate software setup on the side of the receiver, thus allowing for quick collaboration with remote pathologists. You can use annotations to highlight parts of slides to quickly point to areas of interest, allowing for more efficient communication when discussing slides.

How PathoZoom works

Our application has these important features (and many more):

Scan and store slides in digital archive: You can use already implemented slide scanners or create slide scans with PathoZoom Scan using your microscope, a high-speed camera and our software. The resulting image data can be stored on your in-house server and in your SlideCloud.

Review and diagnose cases digitally: PathoZoom Digital Lab is equipped with all the features and more that you would expect from a digital microscope. You can actually work faster in diagnostics with PathoZoom Digital Lab than with your microscope! Pan & zoom at lightning speed and switch slides faster than with glass slides.

View, share and discuss image with colleagues: You can simply share entire cases with a link. Colleagues can then review the case and help diagnosing. They can add comments as annotations to the slide or use the comment function under each image to contribute to the discussion. Also, you can start live microscopy sessions with your colleagues and review cases simultaneously.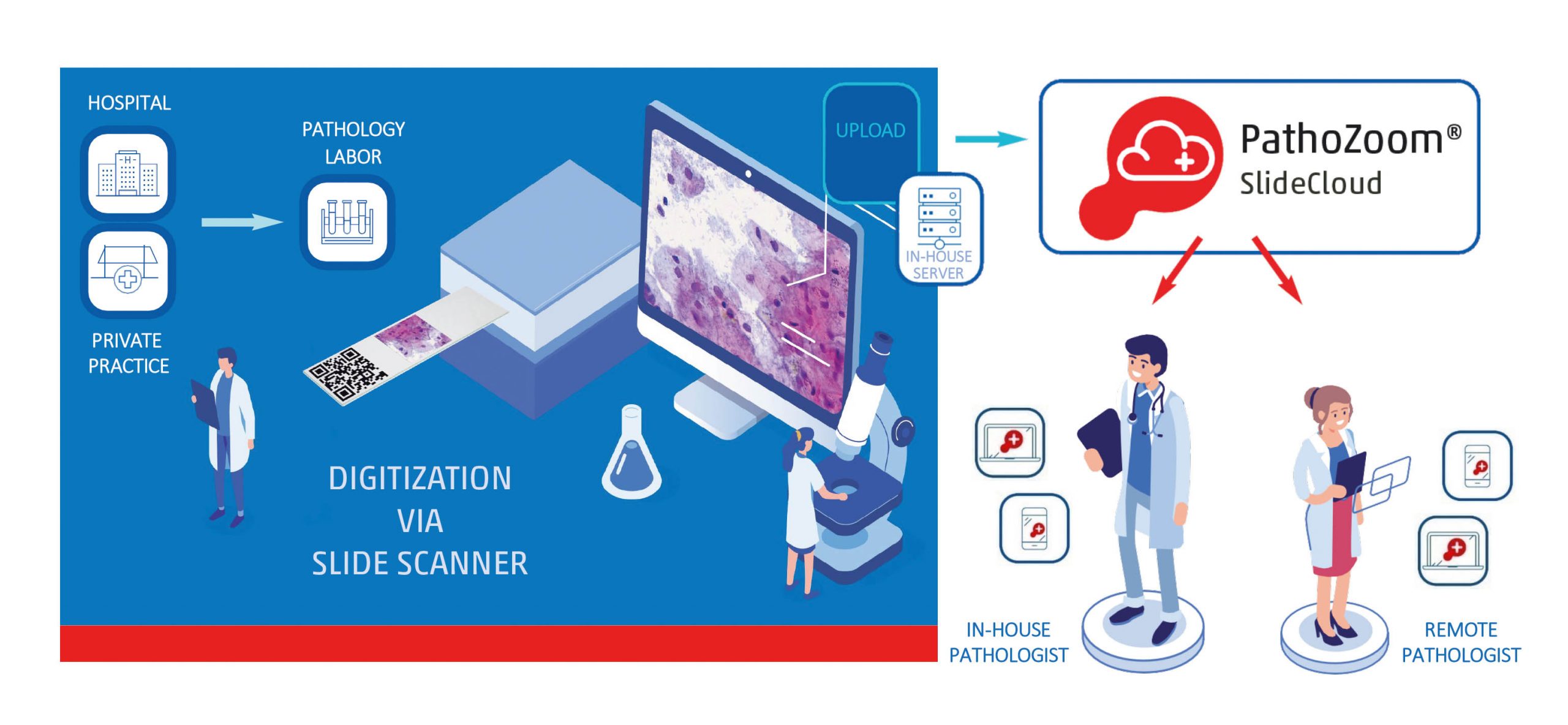 Benefits of using PathoZoom Digital Lab
Faster and more efficient workflow
The PathoZoom suite is the perfect solution for pathologist to diagnose cases from anywhere – from home or as an external collaborator. On the one hand, the software enables the flexible use of substitutes, the uncomplicated handling of work peaks and a plannable expansion. On the other hand, PathoZoom Digital Lab / HomeOffice can be used to meet employees' wishes for work-life balance and flexibility.
Reducing costs
Sending slides analogously both costs more time and money. You would have to tediously find and retrieve the right slides from your archive and then cautiously handle its shipping as to not damage the fragile glass slide. Additionally, you would have to calculate opportunity costs due to the delay of diagnosis from transportation.
Better patient outcome
Digital pathology allows for additionally automatizing certain routine tasks, which enables pathologists to deliver high quality diagnoses even under time constraints. Diagnostic analysis of slides can be sped up with our AI technology.
With the option to share cases with pathologists all over the world, slides can be reviewed by the right expert to provide the right diagnosis. The PathoZoom SlideCloud enables quick collaboration between medical experts, which can drastically improve the outcome of patients who are in urgent need of medical treatment.
Integrating PathoZoom into your workflow
The Digital Lab / HomeOffice can be integrated into any laboratory information & management system (LIMS) and works with any microscope scanner and barcode printer. When using PathoZoom Digital Lab, the cases and slides are easily accessible to remotely working laboratory personnel and external collaborators, who can view the slides on their computer, tablet or smartphone, as long as they are connected to the internet. Image data is served securely and is separated from the patient data, so you can be sure, that their data is protected. No third-party access is possible.